A comprehensive Emergency Medicine resource packed with useful information.
Concise and to the point to help practising clinicians find what they need quickly.
Ideal study guide for emergency medicine specialists in training.
Online version
Don't know all about COVID-19, AZ vaccine side effects?
Can't tell your REBOA from your Ebola?
Or your EXTEM from your FIBTEM?
Do you think the M1 is a Freeway in Melbourne?
Do you think that VIPITT is a song from the 80's?
Do you think TAPSE and MAPSE are characters from a story for children?
Tired of reading about the 'state of the art' that may have been true years ago?
Is the 'cutting edge' of your current textbook now a bit blunt?
Then you need the Emergency Medicine Manual Online version.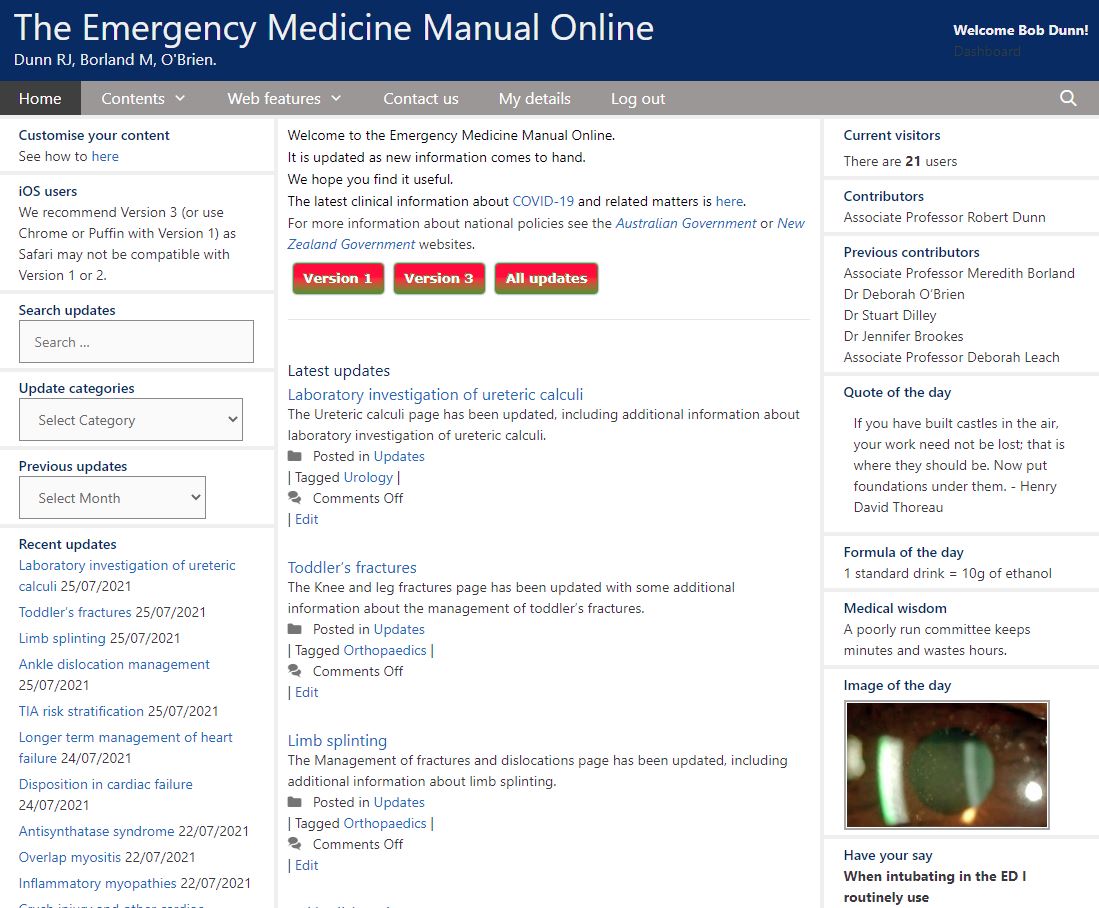 Key features of the Online version
NEW – extensive information about COVID-19, vaccine induced thrombosis and infection control procedures
significantly more content than the last print edition (equivalent of 2400 A4 sized 2 column pages)
updated daily (on average)
more than 1200 images and 50 videos
customisable – you can choose the content you want to see
fully searchable
extensively indexed
more than 2000 MCQs/EMQs included
contains polls, image galleries, quotes, formulas, journal contents and other interactive features to keep things interesting
optimised for viewing on mobile devices of all sizes
integrated ACEM learning objectives
links to all the ACEM Fellowship curriculum procedures and skills required for the OSCE exam
These features make the online version the most comprehensive and up to date Emergency Medicine resource available, and an ideal resource for Fellowship examination preparation. With rapid search capabilities and extensive index and menu structure, it is also ideal rapid reference for the busy practising clinician.
Recommended by:
Australasian College for Emergency Medicine
New Zealand Medical Council
New South Wales Postgraduate Medical Council
The Emergency Medicine Manual provides the latest information about the practice of emergency medicine, with particular relevance to Australia and New Zealand. It covers all the major areas of acute care medicine as well as providing relevant information about chronic conditions that may influence acute care. Extensively used by ACEM specialists and trainees, the breadth of its content also makes it a valuable resource for general practitioners, international medical graduates, medical students, nurses who practice in critical care areas and paramedics. Information is presented in a ready reference format that enables the reader to find what they are looking for in the minimum amount of time.
Although particularly relevant to practitioners in Australia and New Zealand, the manual is used in many other countries such as the UK, Ireland, Hong Kong, Canada, the U.S.A., Saudi Arabia and South Africa.
6th print edition – now out of print and no longer available
The 6th print edition of the manual was released February 13th 2015. The latest print edition was based on the most up to date version of the online version at of January 18th 2015.
More than 4500 print copies of The Emergency Medicine Manual have been sold in 17 different countries.
The 6th print edition went out of print at the end of November 2018, and is no longer available. It is yet to be decided if a new print edition will be released but the earliest this could occur is mid 2020.